Meet Me On Monday is a weekly blog-hop from Java at Never Growing Old. Once a week she posts a list of five questions to help us get to know each other better.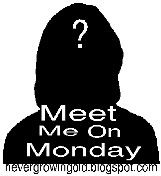 Here are this week's questions with my answers:
1.
What will your Christmas dinner consist of?
We have our big family celebration on Christmas Eve at my mother-in-law's home. We'll all go to 6 o'clock mass then meet at her house for an evening of food, games, and opening presents. It's traditional for everyone to bring their favorite dish with very little advance coordination. We end up with a smorgasbord including ham, shrimp, lasagna, olive balls, broccoli rice casserole, and every kind of sweet you can imagine. I'm especially fond of my sister-in-law Jeanne's iced sugar cookies.
On Christmas Day I usually cook a pot roast for lunch. But, since there will only be four of us this year, I'm thinking of making a big brunch with french toast with raspberry compote, scrambled eggs, and sausage or bacon. Then I'll put a pot roast in the crock pot for after we go to the movies.
2.
Do you watch commercials or flip through the channels?
We DVR everything. Then we fast forward through commercials. We rarely watch live TV, but when we do, my husband flips the channels which makes me crazy.
3.
How long will you leave your Christmas decorations up?
I always take them down on New Year's Day. This question reminds me of my grandfather, who removed the Christmas tree on Christmas Day, as soon as the final present was opened.
4.
What movie makes you cry every time you watch it?
Steel Magnolia's makes me go into the ugly cry. When Shelby (Julia Roberts) dies and M'Lynn (Sally Field) is so angry, I just completely break down.
5.
Do you have a Facebook?
Yes, I have a personal Facebook account and a blog fan page for
Grams Made It
. My kids say I'm addicted to Facebook. But I consider it a hobby.